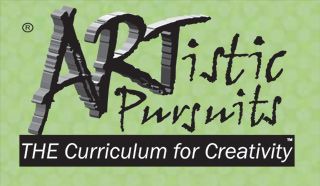 My sweet Emma was SO excited to participate in this review from ARTistic Pursuits!!  She is certainly my most artistic child, and she couldn't wait for this book to arrive so she could dive in. We reviewed the Elementary K-3 Book One last year, and she couldn't wait to review another one! This time, we received the newly expanded 3rd edition Elementary 4-5 Book One: The Elements of Art and Composition.  According to the description on the front cover of this book, it is a "comprehensive art program designed to involve the student in the creative process while developing observational skills." 
I received just the spiral bound book, available for $47.95.  Geared for ages 9 and up, the book is 92 pages long and contains 68 lessons. Lessons are combined into units which focus on "the elements of art", "composition", and more. Most of the supplies listed on the supply list can easily be found at your local craft store making this curriculum very easy to implement.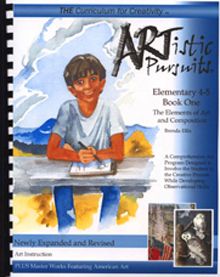 I pre-read the lessons before handing Emma the book, but I allowed her to read the lessons on her own. Lesson three, How to Set Up and Draw, gave Emma tips for drawing from a  photograph or from an object (still life). Her lesson instructions were to try drawing different objects and drawing them large enough to fill up her paper. Here is one of her drawings from this lesson… 
I highly recommend this series.  It is a bit on the expensive side (each book is $47.95), but it is totally worth it for a great art curriculum. Because it is basically open and go, Emma and I both enjoy the fact that she can work independently (with a bit of help from me when necessary to get the creative juices flowing). Other than purchasing the necessary supplies, there is no teacher prep required! The book is non-consumable so it can be used with younger children as they age into each book.  Emma has requested we continue to use this book for the rest of the year, and I plan to grant her wish. She really loves this curriculum. 
ARTistic Pursuits offers art instruction for all ages - preschool through high school.  I look forward to using this program for many years to come.